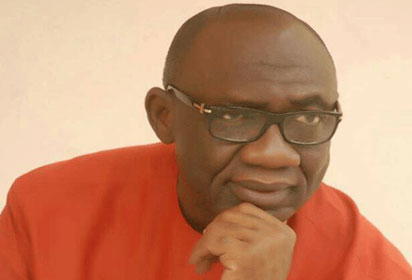 Jude Ejiogu
By Chidi Nkwopara, OWERRI.
The former Secretary to Imo State Government, SGI, Sir Jude Ejiogu, Thursday, explained that he "quietly left the Rochas Okorocha administration when the centre could no longer hold".
Sir Ejiogu disclosed this in his Umuakuru, Emekuku, Owerri North local council area country home, while addressing his supporters from all parts of the state.
"I served as SGI for eight months. After this period of eight months, the centre could no longer hold any more. Differences surfaced. The Governor called and told me that he was going to carry out some reorganization that would affect me and I thanked him", Ejiogu said.
According to the former SGI, "a lot of people did not understand that my exit from the rescue mission administration of the Governor, was devine", stressing that his colleagues and well wishers felt very bad about the development.
"I am not aspiring to be the governor of Imo State because I have all the money to pursue it. I am not wishing to be governor because I am Okorocha's in-law. I am in the race because things are no longer as they should be", Ejiogu said.
He lamented that household income is grossly encroached upon for lack of capacity optimization, good healthcare delivery and other social services have declined.
"It is sad that public and civil servants are neglected. Hope of ordinary citizens and their psyches have been traumatized. This is not good for the polity and I couldn't find myself remaining and supporting these anomalies", Ejiogu explained.