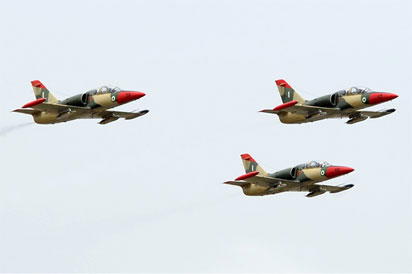 Nigerian Air Force helicopters
By: Kingsley Omonobi-Abuja.
The Nigerian Air Force (NAF) has extended its medical and surgical outreach to Internally Displaced Persons (IDPs) at Igbogene Community in Yenagoa Local Government Area (LGA) of Bayelsa State.
This is in furtherance of the NAF's humanitarian efforts geared towards alleviating the suffering of the victims of the recent flood disaster caused by heavy rainfall in parts of the Country.
Plane carrying Lamido, Sani delayed for 1 hour before landing in Abuja airport
The medical outreach, which commenced today, 11 October 2018, is expected to last for 5 days and would cater to the medical needs of about 4,000 persons including women, children and the aged.
The initiative followed the directive by the Chief of the Air Staff (CAS), Air Marshal Sadique Abubakar, to the NAF Medical Services Branch to immediately find means of assuaging the suffering of the victims of the unfortunate flood disaster.
While speaking during the opening ceremony, the Air Officer Commanding Mobility Command (AOC MC), Air Vice Marshal Napoleon Bali, who represented the CAS, stated that the NAF would always be ready to deploy its resources to alleviate the sufferings of Nigerians.
A statement by Air Commodore Ibikunle Daramola, Director of NAF Public Relations and Information, quotes AVM Bali encouraging the IDPs to take advantage of the high quality, free medical services that would be provided.
He added that general and eye surgeries would be conducted at the NAF Medical Centre in Yenagoa.
He used the opportunity to thank the CAS for providing the needed resources for the outreach.
The leader of the Medical Team and Director of Public Health and Humanitarian Services, Headquarters NAF, Group Captain Azubuike Chukwuka, explained further that the medical outreach was being undertaken as part of NAF's constitutional role of providing military aid to civil authority.
Some of the beneficiaries of the outreach, which also had officials from the Bayelsa State Emergency Management Agency, State Ministry of Health and Nigerian Red Cross Society in attendance, expressed their appreciation to the NAF for coming to their aid.
Services that would be provided during the 5-day medical outreach include free medical consultations and drugs, laboratory investigations, prescription eyeglasses, treated mosquito nets as well as general and eye surgeries, for those with conditions requiring minor surgical interventions.
It would be recalled that the NAF recently conducted medical outreaches for flood victims at Zungeru in Wushishi Local Government Area (LGA) of Niger State and Jibia in Jibia LGA of Katsina State, with over 5,000 persons benefiting.