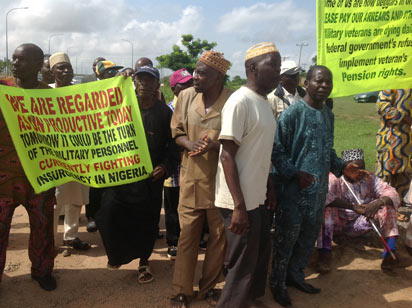 Retired Military men protesting at the Confab
By Kingsley Omonobi
Authorities of the Military Pensions Board, MPB, have said that a video that went viral, accusing the board of abandoning retired military personnel and failing to pay pensions to ex-soldiers should be ignored as the video is a misrepresentation of facts.
Noting that a fact-finding team was put in place to investigate the issues raised by the author of the video, one Army Private Ibrahim Umoru, the MPB said it was discovered that the soldier failed to attend mandatory verification exercises from 2003 to 2019, to ascertain if he was still alive, as is the procedure for payment of pensions.
With his reappearance, the board has initiated processes to ensure that he was paid pension while also investigating his disappearance and refusal to partake in the verification exercises for 16 years.
A statement by Flight Lieutenant Obasi Okoroafor, Public Relations Officer of MPB said, "MPB wishes to state that the video did not represent the actual fact of the issue.  It is not only untrue but baseless and misrepresentation of facts capable of misleading unsuspected members of the public.
"The Board on discovering the video circulating in the social media sent a fact-finding committee to investigate the claims with a view of finding the true state of the claims.  The committee visited the site and discovered that the pensioner with service number 63NA/339199 Pte Ibrahim Umoru is a pensioner from the Nigerian Army and has been receiving his monthly pension from 2003 to March 2019 without any delay."
"His gratuity had been paid to him after his discharge from the Nigerian Army.   It was also discovered that the claimed outstanding months of arrears was as a result of his absence for verification exercise from 1982 to 2003 carried out every two years by the Board.
"In this regard, the Board has an established procedure of investigating the authenticity of such claims to avoid being defrauded by mischievous elements.  This notwithstanding, efforts are ongoing to unravel what transpired during that period before his appearance.
"The Board always welcome complains from genuine retired personnel and also advice retirees to avoid accumulating pension arrears due to not turning up for documentation or verification as its contacts are always available through various means.
"When he visited the Military Pensions Board recently to request for the claimed arrears before the video, the chairman Major General A.B. Adamu immediately directed the commencement of the process of investigation for the purpose of confirmation and payment.
"The MPB under the leadership of Adamu wishes to assure pensioners and Nigerians in general of the determination of the Board in making sure that all  pensioners receive their entitlement as when due."