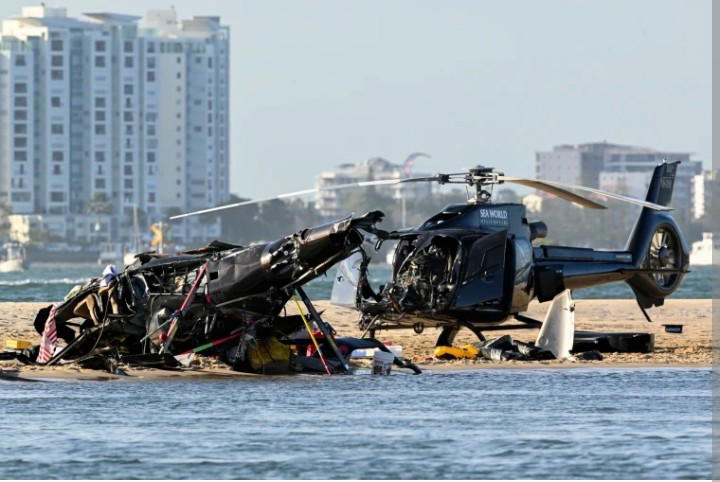 By Biodun Busari 
A British couple died as two helicopters collided over the waterfront at an Australian tourist hotspot, according to NBC on Tuesday. 
According to NBC report, apart from the British visitors, an Australian pilot and a woman also died in the crash.
The two choppers were operated by Sea World Helicopters, adding that the pilot of the second helicopter managed to land safely on a sandy outcrop, near Main Beach on Australia's Gold Coast.
Read also:
We'll ask every country to name stadium after Pele – FIFA
Eight Argentine rugby players on trial for killing teenager
Buhari signs N21.83trn Appropriation Bill into law
The victims were Diane Hughes, 57, and her 65-year-old husband Ron from Liverpool, the United Kingdom.
They had only got married last year and they were on holiday, Queensland Police said.
Authorities have issued a statement saying the crash occurred as one helicopter was taking off from a sandbar and the other was landing.
Three others, including two children, were badly injured and are in hospital.
"Considering the damage that was done to the front left-hand section of the helicopter, where the pilot was sitting, that has been a remarkable achievement," said Australian Transport Safety Bureau Chief Commissioner Angus Mitchell.
"So whilst it has been very tragic that four people have lost their lives and many people are mourning this morning, we could have had a far worse situation here and the fact that one helicopter managed to land has been quite remarkable."
The pilot who died, Ashley Jenkinson, had worked as a chief pilot at Sea World Helicopters since 2019.