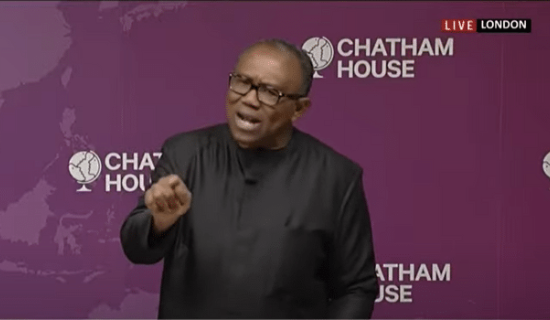 By Biodun Busari
The presidential candidate of the Labour Party, Peter Obi, has said he will address all the issues of agitations if elected President of Nigeria.
Obi said this to stakeholders at the Royal Institute of International Affairs, London, (the Chatham House), during his address, on Monday.
The former Anambra state governor was asked how he will address the issue of agitation by the Indigenous People of Biafra (IPOB) during the question and answer session.
Read Also: Atiku should be arrested over 'Special Purpose Vehicle' saga — Tinubu
Answering, Obi said, "I condemn all agitators. But in condemning them, you have to look at why all these agitators are all over the place including IPOB, the Yoruba Nation."
He said 63% of Nigerians are in massive poverty, which is fuelling the agitations in Nigeria.
Further speaking on the welfare plans he has for Nigerians, Obi vowed that the plans and solution of his party will drive a quality life for the average Nigerians.
He noted that demography was driving the change that is currently being witnessed in Africa with elections after elections see established parties upturned by new and small parties.
"It's this change that my vision of policy change and institutional development is rooted in.
"A push for a broadened scope of social development, mobility and freedom for Nigerians particularly for the youths and the women," he said.
Obi assured that himself and his running mate, Senator Yusuf Baba-Ahmed, are committed to the new politics that starts with ethics and servant-leaders, anchored on marriage of 'clean and skillful hands'.