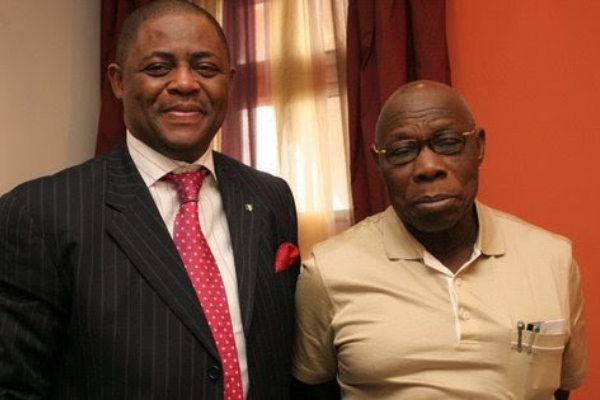 By Idowu Bankole
A former Aviation minister Chief Femi Fani-Kayode has reacted to the endorsement of Labour Party's Peter Obi by his former boss, Chief Olusegun Obasanjo, describing the action as the biggest mistake of the former president.
Obasanjo had in a four-page letter endorsed Peter Obi, and told the Nigerian youths that the Emi lokan leadership attitude is a bad mentality for the country.
The ex-Nigerian leader also admonished the Nigerian youths on what they should look out for in a leader they want to hoist on themselves in the forthcoming elections, describing the current situation in the country as a "frying pan to fire".
But in an essay sent to Vanguard, titled WHAT HAVE THEY DONE TO OUR BABA?, the former aide to ex-president Obasanjo said endorsing Peter Obi is the biggest mistake of Chief Obasanjo.
Fani-Kayode praised Tinubu's antecedents in Lagos, saying the APC Presidential Candidate built more churches and employed other ethnic groups than any governor in the history of the country.
He said, "Honestly it pains me when I read what people are saying and writing about him since his latest letter because I remain one of his most loyal and loving sons and I am very fond of him."
Also Read
"Yet a loyal and loving son owes his father, if nothing else, one thing and one thing alone: the bitter truth.
"And that bitter truth is that his endorsement of Peter Obi is the biggest mistake that he has made ever since he came into politics in 1999 and it is nothing but an exercise in futility.
"Obi will not only lose woefully and may well be driven into fourth place but he may also lose his deposit and much more".
Obasanjo's endorsement of Peter Obi is coming on the heels of political tension in his former political party, the PDP, where G5 governors are at loggerheads with Obasanjo's ex-Vice President, in 1999, Atiku Abubakar, now vying to be president.
Political observers have described the outcome of the February general election as likely to shape the trajectory of the nation's social economy future.